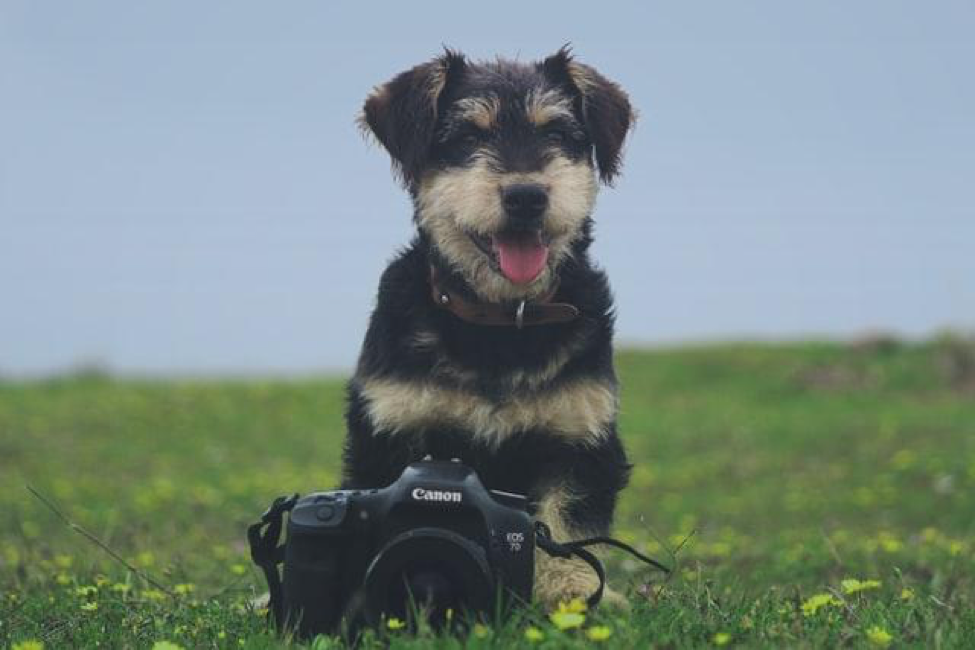 20 Jan

6 Dog Photography Tips for Perfect Pet Portraits!

By: Xavier James

For every dog owner out there, a perfect portrait of their dog is a dream. Their loyal and valued pal – captured perfectly in a frame. So, they may cherish their presence all their life. Even when life brings them to a point where they have to part ways, the perfectly preserved moment will give them hope and sweet memories.

However, achieving this perfect pet portrait is an entire challenge. If you're a photographer, you'd know the pain.

It's difficult to get these four-legged packs of energy to stay stable at one point and pose for the picture. So, here in this post, we have listed six dog photography tips for perfect pet portraits.
1.    Introduce Dog Owner to the Frame
The best way to calm a dog is to keep familiar company around. You can ask the dog's owner to assist you with that. Ask them to either sit with the dog or hold them in one position. They can do so by soothing them by talking or petting them.
As a photographer, we recommend you keep your gear ready and capture heart-warming moments.
2.    Focus on the Eyes
Dogs express a lot of their emotions via eyes. So, when setting out to capture the perfect dog portraits, we recommend focusing on the eyes.
The unique eye colors and abundance of expression held by them will give you some phenomenal dog portraits. We bet these pictures will speak a thousand words on their own.
However, for such pet portraits, it's best to use a macro lens. The usual lens will not provide you with ample zoom.
3.    Spend Time with the Dog Before Photography Session
You can introduce the dog owner to the frame for familiarity and comfort purposes. But at times, that wouldn't do the job for you.
As soon as the dog owner gets distant, the dog will be uncomfortable and panicky again. So, the dog must familiarize with you too.
For that, we recommend spending time with the dog. You can do so in 2-3 visits to the dog's house before the photoshoot. Have a cup of tea with the owner and learn about their preferred dog commands. If possible, practice them out with the dog too. So that when you take the dog out for the photoshoot, it's comfortable enough to spend time with you and give you a few cute poses.
4.    Use Wide-Angle Lens
Technically, you will need some very specific gear for dog photography. Dogs tend to move a lot. And so, you will require lenses with sensors that stabilize images. Similarly, a wide-angle lens can help you capture images with wide compositions. Plus, these have smaller focal lengths.
So, you can capture the right parts in a big frame and bring a creative and artistic edge to your dog portraits.
5.    Use Manual Focus
Along the same lines, using manual focus is a good idea too. Autofocus will land you some very generic and dull pictures. However, with manual focus, you can enhance the aspects of images that matter.
6.    Make Use of Natural Daylight
Lastly, here's a super-economical tip for capturing awesome dog portraits: use natural daylight!
How and why? Allow us to explain.
Most photography techniques and domains demand the use of complex lights. Be it strobe or flashlights and whatnot.
However, with pets, you can perform the best under the sun. We'd ask you to particularly use the golden hours, i.e., the hours after sunrise and the minutes immediately before sunset. The sunlight in these time frames has an artistic edge. They create a hazy, majestic environment, with which dogs complement well. You can capture a dog portrait with your dog looking in the distance as the sunsets.
Or perhaps, the dog running towards its owner as the sun rises in the background. We do not recommend capturing pictures in bright daylight, such as between 12-3 pm. The heat of the sun will irritate the dog and will make the photography session messy.
If you wish to shoot midday, it's best to opt for a cloudy day when there are cool breezes to keep the dog, and your team refreshed. Plus, the clouds bring a pleasant glow to pictures.
Final Thoughts
Summing up, dog photography is tough like most animal photography. Dogs, like other animals, cannot comprehend your instructions and understand the requirements of your portraits. Communication is difficult with them. So, you should plan your photoshoot dot by dot before the assigned day.