07 Dec

A Present for Everyone! Extended Grooming Schedule!
TOP DOG is proud to announce extended grooming hours! Now you can schedule your pup's trim for Fridays and Saturdays.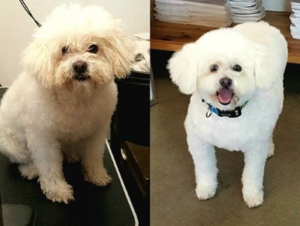 TOP DOG Barkery * Bath * Boutique has a new member of the grooming team! And a new member means new hours to bring your furiend in for a much-needed winter trim. Come bring your pup in for a bath before the holiday season madness hits!
Not familiar with our grooming offerings? We have several dog grooming packages to choose from that include all spa perks with nail cuts, ear cleaning, professional and specialized shampoos and conditioners for every skin type. We'll turn your pup into a TOP DOG with our bath and haircut specials, and spoil them with our famous dog bakery pastries while they are here!
Beach Bath Express
Premium Shampoo & Conditioner
Ear Cleaning
Towel Dry
Silver Package
All Beach Bath services plus:
Blow Dry
Nail Trim
Hair Brushing
Ear & Gland Cleaning
Scented Spritz
Gold Package
All Silver Package services plus:
Scissoring feet
Sanitary Trim
Breath Freshener
Platinum Package
All Gold services plus:
Full Body Scissor Trim or Clipper Shave
Blueberry Facial
Shaving Pads
Nail Grind
Teeth brushed
Small, medium, and large dog pricing available on all packages. Please note that matted hair and special requests will be quoted separately. Reward points are given for all bath and grooming services.
Give us a call to set your appointment time for the spa, most dogs will be done in about 2 hours and they will get spoiled on our dog bakery treats while they are here! Or, schedule your appointment online here.